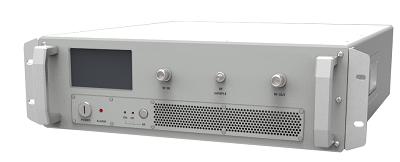 Microwave Town's completely solid state microwave power amplifier module features high efficiency, high output power and wide dynamic range. It uses advanced microwave device technology and provides high reliability and ruggedness product for our customer. Functions including over current and over temperature protection to guarantee the safety when working in various harsh conditions.

All listed amplifiers are available in either module or system version upon request.
An END-USER STATEMENT must accompany all international orders and domestic orders shipping outside the United States.
| ID | Frequency (MHz) | Description | Gain (dB) | Psat (dBm) | Psat (W) | Spec |
| --- | --- | --- | --- | --- | --- | --- |
| MTPA20060230301 | 20.00-6000.00 | 1 Watts, 20MHz - 6 GHz Ultra-Broadband Amplifier | 30 | 30 | 1 | PDF Spec |
| MTPA20260250471 | 2000.00-6000.00 | 50 Watts, 2 - 6 GHz Microwave Amplifier | 50 | 47 | 50 | PDF Spec |
| MTPA20260253531 | 2000.00-6000.00 | 200 Watts, 2 - 6 GHz Microwave Amplifier | 53 | 53 | 200 | PDF Spec |