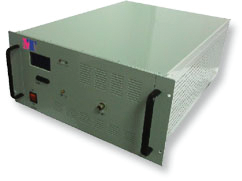 Microwave Town's air-cooled, broadband, solid state amplifier systems are designed with GaN technology. They guarantee high gain, high output power, wide dynamic range, and good linearity. The front panel gain control allows easy operation on setting the desired output level. The LCD display shows operate status including rack temperature, current, gain, and etc. Multiple self-protection techniques such as thermal overload, excessive current flow, Input overdrive, large mismatch, fan mal-function. The status indications are available via the LCD display accordingly. They are perfect for EMI/EMC test, satellite communication, RF/MW measurements, and other applications.

All listed amplifiers are available in either module or system version upon request.
An END-USER STATEMENT must accompany all international orders and domestic orders shipping outside the United States.
| ID | Frequency (MHz) | Description | Gain (dB) | Psat (dBm) | Psat (W) | Spec |
| --- | --- | --- | --- | --- | --- | --- |
| MTPA20260253532 | 2000.00-6000.00 | 200 Watts, 2 - 6 GHz Microwave Amplifier | 53 | 53 | 200 | PDF Spec |
| MTPA70160240402 | 700.00-6000.00 | 10 Watts, 0.7 - 6 GHz Microwave Amplifier | 40 | 40 | 10 | PDF Spec |
| MTPA70160247472 | 700.00-6000.00 | 50 Watts, 0.7 - 6 GHz Broadband Power Amplifier | 47 | 47 | 50 | PDF Spec |
| MTPA70160250502 | 700.00-6000.00 | 100 Watts, 0.7 - 6 GHz Broadband Power Amplifier | 50 | 50 | 100 | PDF Spec |